Automotive
Integracion Power y Free de laterales VW276.
Client: VOLKSWAGEN
Location: Portugal (Portugal)
Programación y puesta en marcha. Tecnología PLC y HMI SIEMENS.
Rear Subframe D8
Client: GESTAMP SOLAR (RENAULT)
Location: Fábrica de Newton (UK) (United Kingdom)
Programación y puesta en marcha de 2 lineas de soldadura, para fábrica de Gestamp en UK
Energy
Control system of auxiliary services at cogeneration plant
Client: CERANOR
Location: Spain
Control system of auxiliary services for Phase 1 and 2 of the CERANOR Don Juan cogeneration plants in Valencia, including connection with the PLC control systems of the groups to display all statuses/controls on screen. SIEMENS PLC-based system and SCADA INTOUCH system.
Configuration and commissioning of microscada and ref systems at distribution centres
Client: HIDROELECTRICA DEL CANTABRICO
Location: Spain
Development of systems to perform monitoring and control of substations and transmission centres. The ABB scada system was used: MicroSCADA. Enables remote control with interlocks and connections with field units and control and protection units through various communication protocols. At the same time, microscada systems communicate with the office to ensure centralised control.
Control system at hydropower plants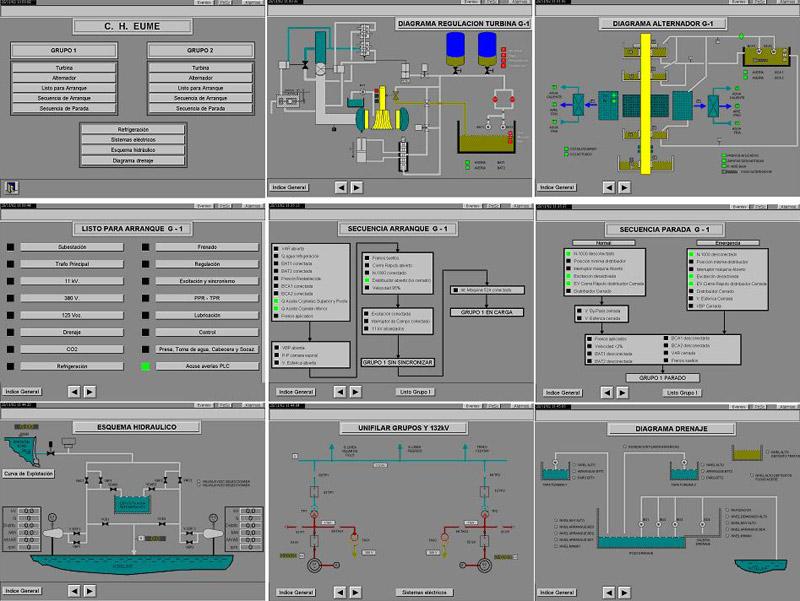 Client: ENDESA
Location: Spain
Updating throughout the years of the control systems of several hydropower plants and installing S7-400 programmable automation, SIEMENS SCADA WinCC and PROFIBUS networked remote control system. Plants covered by the works: EUME, PRADA, SAN SEBASTIAN, BARCENA, LAS ONDINAS, CORNATEL, QUEREÑO.
Paper
Replacements throughout several phases of the control system at ENCE Navia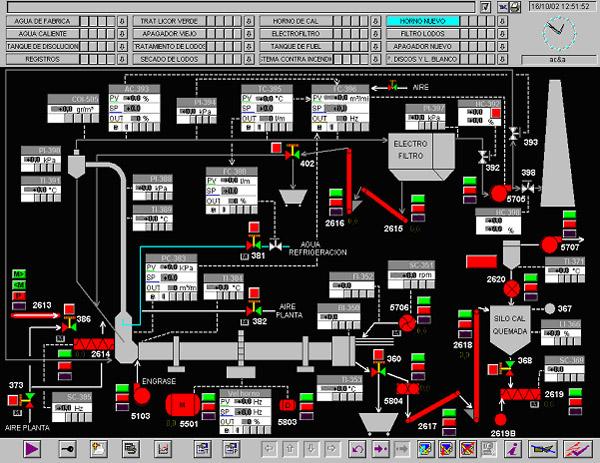 Client: GRUPO EMPRESARIAL ENCE
Location: Spain
Replacement of monitoring systems of various areas (lime kiln, washing-bleaching, resin-extracting plant and paper pulp machine) in the PLC-Scada designed process at the hybrid system. The various hybrid systems at the plant are connected to one another and to other systems responsible for other parts of the process through different protocols (profibus, Ethernet, modbus RTU, etc.)
Control system for substation and mid-voltage centres
Siderurgy/metallurgy
Automation of coke batteries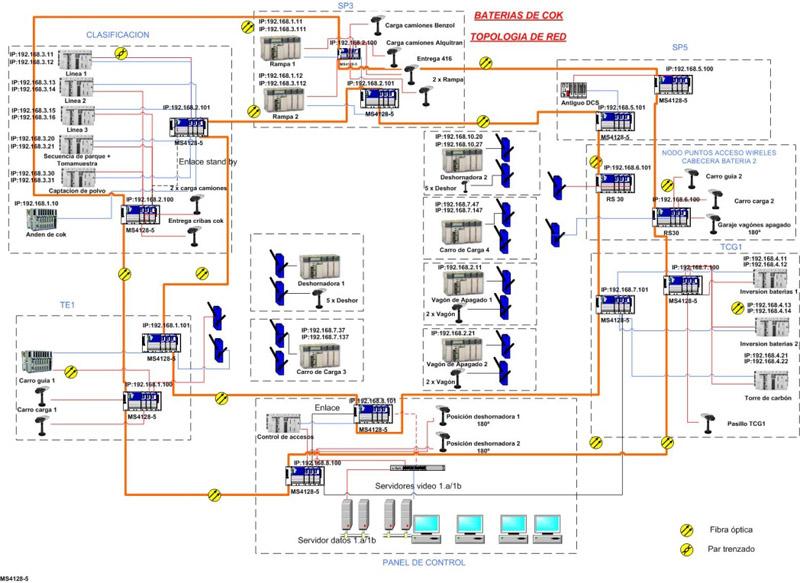 Client: ARCELOR MITTAL
Location: Spain
Programming supply and start-up of a system to monitor and control the coke batteries at the steelworks. The system includes:
General DCS used as platform to perform various control actions and production organisation.
PLC control systems of the various process areas (15 PLCs).
Ethernet network with dual-ring redundant topology.
Various machines connected to each other through a redundant wireless link (6 machines).
Alternative blower system of converters at the LD-III ACERALIA steelworks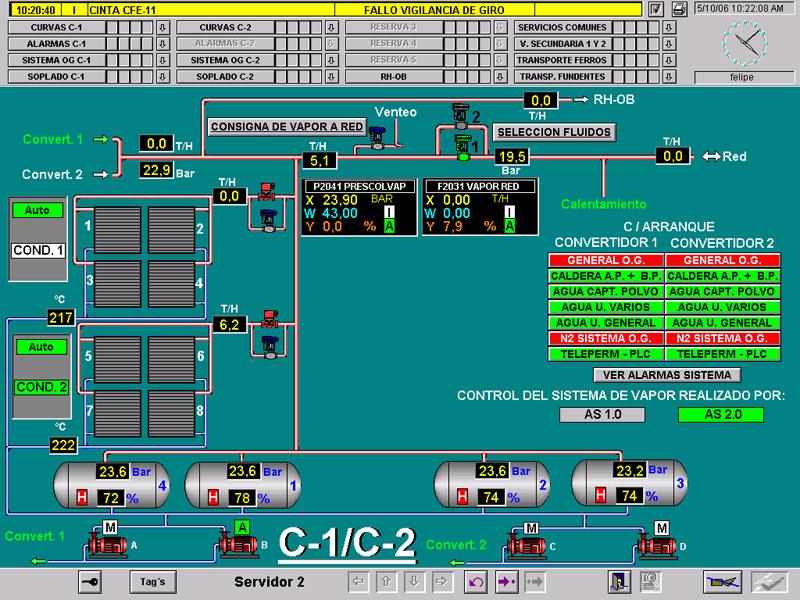 Client: ARCELOR MITTAL
Location: Spain
Control system made up for S7-400 programmable automation, SIEMENS SCADA WinCC monitoring and SIEMENS TELEPERM distributed control. Point-to-point TTY communication via RK51 protocol. Project performed in line with scheduled, one-off shut-downs during facility hours. All the common parts of the 2 existing converters (steam system) were duplicated to enable alternative operation. The existing programming was adapted both in the PLCs and in the DCS to ensure that operation responded to the functional description provided by the technicians.
Water
Control and automation system for the Cap Djinet desalination plant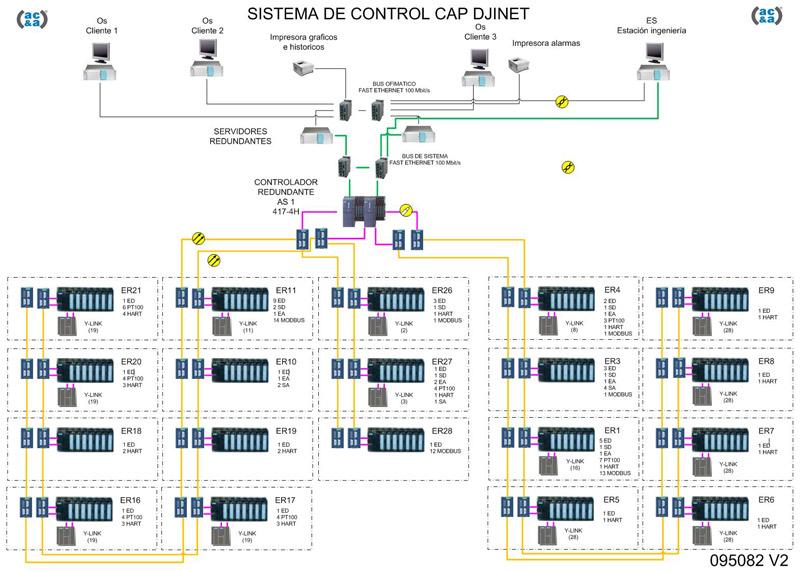 Client: ISOTRON
Location: Algerie
Programming supply and start-up of a system to monitor and control the desalination plant. The control architecture has:
General plant DCS are of a redundant architecture both at monitoring level (redundant servers) and controller level (pair of redundant controllers).
Distributed periphery at the plant in redundant bus (profibus).
Ethernet monitoring network with star architecture and secure remote access for monitoring and configuration.
Control system of the Ablaneda drinking water treatment plant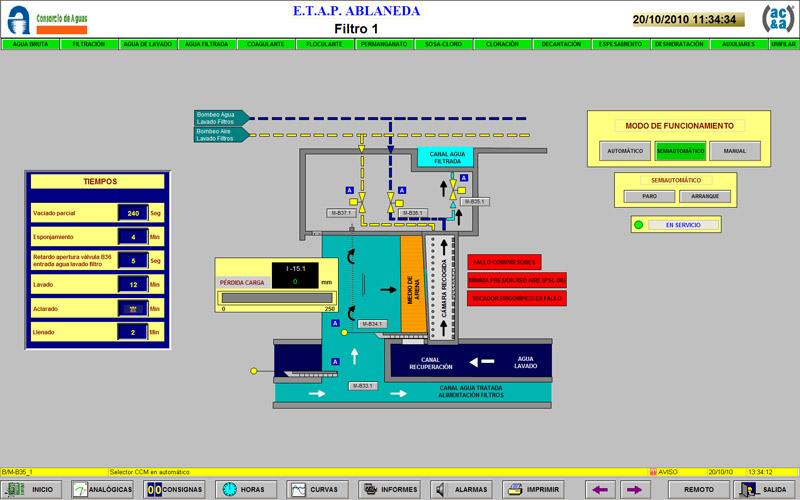 Client: UTE AQUALIA/FCC
Location: Spain
The Ablaneda drinking water treatment plant is located in the municipality of Corvera de Asturias and works to treat water from the Narcea river to ensure supply to the coastal towns. The control system has PLCs and Siemens SCADA WinCC and covers the following areas of the facilities:
Preliminary treatment and pumping of untreated water.
Filtration and chlorination.
Reagents and sludge treatment.